Website Design AccurateDesignStudio.com - January 12, 2017!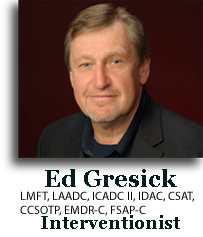 ABOUT ED
---
Ed is a licensed Marriage and Family Therapist and a professional Interventionist. He received his Master's degree from Bethany University in Clinical Psychology and a Bachelor's degree from Rutgers University. Ed is a Licensed Advanced Alcohol and Drug Counselor and holds a specialized certification and accreditation by the California Certification Board of Alcohol and Drug Counselors and is an Internationally Certified Alcohol & Drug Counselor. Ed very successfully uses a combination of evidenced based therapy models including Cognitive Behavioral Therapy (CBT) and Eye Movement Desensitization and Reprocessing (EMDR) in his practice. Ed works with individuals, couples, adolescents and families with substance abuse and addiction issues and is available as an Interventionist for intervention services. Ed works with various addiction and substance abuse preexisting and coexisting issues including depression, anxiety, stress, self-esteem & personal growth, couples & relationship issues, families, life transitions, grief/loss and family-of-origin issues including codependency and attachment trauma. Ed was recently associated with New Life Community Services addiction treatment program in Santa Cruz where in addition to being an on-site treatment program manager, group counseling facilitator and performing individual counseling, he taught relapse prevention and addiction education classes. Ed is currently associated with the Addiction Recovery Center (ARC) which specializes in sex addiction issues. In association with ARC, Ed does individual and group counseling with various sex addiction issues including internet pornography addiction. Additionally, Ed is an Authorized California State Problem Gambling Treatment Provider, providing no cost treatment to problem and pathological gamblers and their affected family members. He is a member of the California Association of Marriage and Family Therapists and the California Association of Alcoholism and Drug Abuse Counselors.

Education:
Bethany University – Master's degree in Clinical Psychology
Bethany University – Certification Program in Addiction Counseling (CPAC)
Rutgers University – Bachelor of Arts degree

Areas of Focus:
Addiction
Substance Abuse Issues
Internet Pornography Problems
Problem Gambling
Pathological Gambling
Interventions
Codependency
Depression
Anxiety
Stress
Self-esteem/personal growth
Couples/relationship issues
Families
Life transitions
Grief and Loss
Family of Origin Issues
Trauma recovery
Victims of crimes issues

Seminars, Workshops and/or Memberships:
Bethany University Addiction Counseling Certification Program
UCLA Specialized Training for the California Problem Gambling Treatment Services Program
License/Certification/Accreditation by the California Board of Alcohol & Drug Counselors
California Association of Marriage and Family Therapists (CAMFT)
California Association of Alcoholism and Drug Abuse Counselors
Call me Today at (408) 491-9991 to schedule an appointment.